Baton Rouge School of Court Reporting
Press Releases
| | |
| --- | --- |
| Release Date | Links to Press Releases |
| October 31, 2012 | Mock Certification Testing Offered |
| October 13, 2012 | Mock Certification Testing Offered |
| September 13, 2012 | BRSCR Honors 2012 Graduating Class |
| August 28, 2012 | Expected Hurricane Conditions |
| May 31, 2012 | BRSCR Offers No-Interest Payments |
| April 19, 2012 | BRSCR Announces Change of Ownership |
| March 28, 2012 | BRSCR_Announces_Voice_Program_Enhancements.pdf |
| November 30, 2011 | BRSCR Announces Tuition Financing |
| October 30, 2011 | Baton Rouge School of Court Reporting Announces New Location |
| September 12, 2011 | BRSCR Graduates Students in Court Reporting, Captioning, and Scoping |
| August 25, 2011 | Choosing a Court Reporting Method |
| July 27, 2011 | 10 Good Reasons to Become a Court Reporter |
| June 30, 2011 | Online Court Reporting School Offers Unique Items in New Bookstore |
| May 23, 2011 | Three "Pajama Jobs" That Let You Work From Home |
| February 11, 2011 | Online Court Reporting School Expands to Offer Administrative Courses |
| | |



Baton Rouge School of Court Reporting is proud to have been recognized and granted status as a Participating Court Reporter Training Program with the National Court Reporters Association.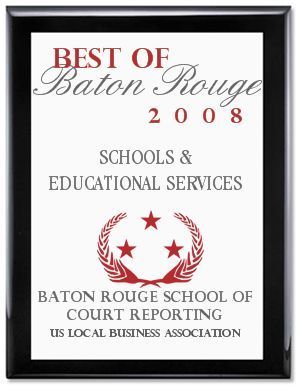 [Home] [About Us] [Admissions] [Bookstore] [Contact Us] [Curricula] [Enroll Now] [Info Request] [Press Releases] [Privacy] [Refund Policy] [School Calendar] [Student Zone] [Testimonials] [Texts & Equipment] [Tuition Online]
Send mail to webmaster@brscr.com with questions or comments about this web site.
Web Services by Mark H. Vornkahl Consulting
Copyright © 2011 Baton Rouge School of Court Reporting, LLC
Last modified: 11/29/2012

All third-party products and services listed herein are registered trademarks of their respective companies.